Fuji Bridex is proud to partner AMSC and deliver Utility Voltage Solutions to our customers.
The world depends on reliable energy. As utilities face complex challenges between maintaining reliable power to their customers and new types of distributed generation, AMSC is committed to developing technologies that enable utilities to service the homes and businesses that rely on them.
AMSC's Utility Voltage Solutions are a group of compact, efficient and scalable FACTS (Flexible AC Transmission Systems) specially designed for the unique challenges facing today's Transmission & Distribution networks. AMSC's are utility-scale power electronics that increase power flow, reducing transmission loss and minimizing environmental impacts cost effectively.
Distributed Energy Resources (DER)
Over the last several years, there has been a rapid rise in Distributed Energy Resources (DER), in particular distributed generation from PV in forms of residential rooftop, small utility scale and commercial solar installations. Because renewable energy is dynamic and intermittently variable in nature, distribution grids must now enhance their network's capabilities to accommodate this new resource, while maintaining efficiency and superior power quality for AMSC's customers.
As penetration of DER increases, the problems caused by DER are also increasing, and are in some cases causing utilities to limit the amount of DER that can be installed on their distribution grids. These problems include:
 Excessive voltage deviation due to rapidly varying wind speed or cloud cover
 Inability to regulate voltage due to rapidly changing generation levels and reverse power flow
 Increased maintenance on traditional voltage management systems such as voltage regulators, capacitor banks, and transformer load tap changers due to rapid changes and generation and voltage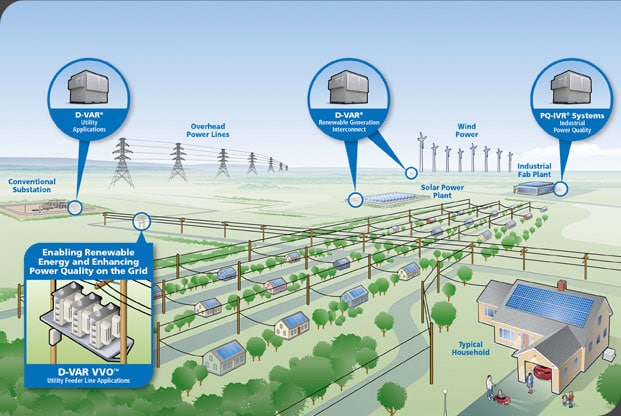 AMSC's D-VAR VVO® are distribution class shunt compensation systems that provide utilities & project developers with a purpose-built tool to address applications that demand fast and precise volt/VAR compensation, such as those driven by increased DER penetration.
D-VAR VVO®
The D-VAR VVO® is a distribution class shunt compensation system that provides utilities & project developers with a purpose-built tool to address applications that demand fast and precise volt/VAR compensation, such as those driven by increased DER penetration. D-VAR VVO builds upon AMSC's over 20 years of experience in manufacturing and deployment of D-VAR® dynamic reactive power solutions in utility networks. Featuring continuous control of reactive current, these power electronic compensators can be used to solve dynamic response limitations and costly mechanical wear issues associated with conventional switched cap banks and tap changing regulators.
Applications Include:
 Enhancing feeder voltage regulation performance
 Low-Cost upgrade for increasing DG hosting capacity and EV fast charging capacity
 Quickly solve flicker and power quality problems
 Interconnect solar/DG plants in existing feeders
 Eliminate conservation voltage reduction (CVR) performance bottlenecks
Performance Features:
 Sub cycle response and continuous control of current
 Extremely low power losses
 Meets stringent integrity standards for overhead distribution equipment
D-VAR® Systems
The STATCOM provides a powerful and cost effective source of dynamic VARs for a wide range of operational needs. They can correct voltage instability problems on transmission networks; provide dynamic steady-state voltage and power factor control and regulation on transmission and distribution networks; protect industrial facilities requiring premium power quality; and support a stable point of interconnection for distributed generation facilities and large-scale wind farms.
D-VAR® VVO Installations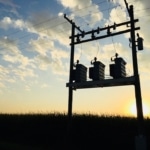 15 kV Three Phase Feeder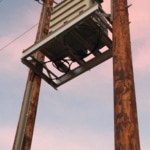 15 kV Single Phase Lateral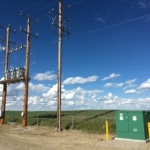 25 kV Three Phase Feeder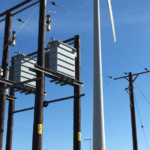 11kV 3-Wire Installation
Our Gallery