Fuji Bridex is proud to partner AMSC and deliver Grid Capacity and Reliablity Solutions to our customers.
Efficiency is the key to any system's success, and delivering power is no exception. AMSC's Superconductor Cable Systems utilize Amperium® high temperature superconductor (HTS) wire, which can transmit up to 10 times more power than traditional aluminium or copper conductors, or can carry equivalent power at much lower voltages.
Ideal for both direct current (DC) and alternating current (AC) systems, superconductor cables may be used in utility power networks or in commercial and industrial applications such as data centers.
Resilient Electric Grid (REG)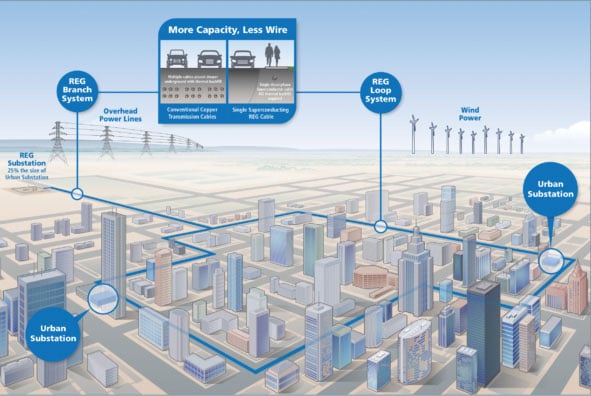 REG applications feature cable systems that utilize Amperium® high temperature superconductor (HTS) wire in place of traditional aluminium or copper conductors. Cables that utilize HTS wire have no resistance to the flow of electricity and can transmit up to 10 times more power than conventional cables, allowing bulk transfer of transmission levels of power at distribution voltages. Furthermore, REG cables are inherently fault current limiting which is not possible in traditional cables. By combining bulk power transfer and fault current limiting at distribution voltages, REG Systems give utility engineers a new tool that provides reliability and load serving improvements that was previously not technically or financially feasible with traditional technologies.
REG cables are remarkably compact and easy to site compared traditional technologies with similar power transfer capabilities, which makes it much easier and less costly to provide step-change improvements in reliability within dense urban areas where infrastructure improvements are generally expensive and difficult.
REG Systems (Branch Application)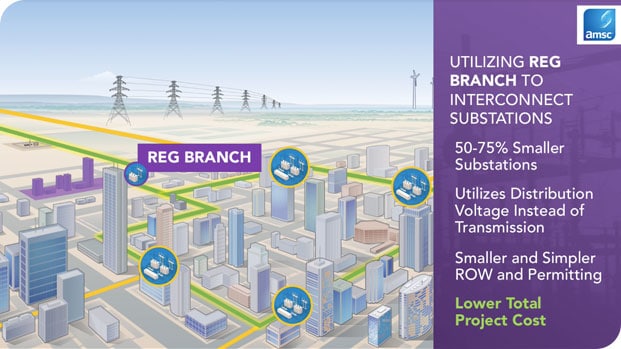 Utilities are under increasing pressure to improve their ability to serve loads in urban environments. At the same time, costs for acquiring land and performing construction projects in those urban environments is skyrocketing. Additionally, there is a growing demand that utility infrastructure be placed underground for aesthetic and security reasons. REG system's Branch application can provide substantial relief to utilities that are faced with these challenges. REG systems allow utilities to move bulk power into and around urban areas underground at distribution voltages in an extraordinarily compact manner. Siting, permitting, and installing transformers and transmission voltage equipment is expensive and difficult within urban areas. REG Branch enables utilities to reduce the need for transmission voltage equipment or allow them to locate this equipment outside of the urban areas, substantially reducing project duration, disruption, and cost by reducing the size of the new substation by up to 75%.
Benefits include:
 50-75% Smaller Substations
 Utilizes Distribution Voltage Instead of Transmission
 Smaller and Simpler ROW and Permitting
REG Systems (Loop Application)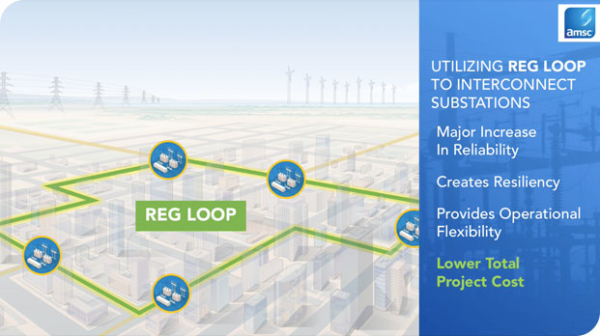 Catastrophic equipment failures, physical and cyber threats, weather-related disasters, as well as failure of aging equipment can all leave entire sections of a city without power for hours or days. The inability to restore power in a timely manner only makes the situation worse. REG system's Loop application provides protection against blackouts that can follow the loss of critical substation facilities by allowing the interconnection of nearby substations, enabling them to share transmission connections and excess station capacity, while controlling the high fault currents that naturally result from such interconnections.
Benefits include:
 Significantly improve network redundancy and resiliency
 Improve survivability of catastrophic system events
 Increase load-serving capacity of existing substations
 Back-up for loss of transmission
 Add flexibility to maintenance schedules
High Temperature Superconductor Wires
AMPERIUM HTS WIRE
Amperium high temperature superconductor (HTS) wire conducts approximately 200 times the electrical current of copper wire of similar dimensions. This second generation (2G) wire is available in copper (Cu), brass and stainless-steel laminate.
BRASS
Used in high-current AC or DC cable applications, such as power transmission and distribution, high-capacity Amperium wire offers a significant increase in the amount of power that can be carried regardless of voltage. Amperium wire's unique laminated construction combined with the dual impedance characteristic of superconductors, allows for the construction of cables with intrinsic fault current limiting capability. This provides high capacity under normal conditions and high resistance during fault conditions. brass-laminated superconductor wire provides high strength and stability with ease of stranding and handling.
COPPER
Used in power dense coils for applications such as synchronous motors, generators and magnets, our Amperium copper-laminated wire can dramatically reduce the size and weight of large-scale electrical equipment. This product provides significantly greater power throughput and efficiency as well as high strength and stability with outstanding bend tolerance.
STAINLESS STEEL
Used in current limiting superconductor coils or rods where robustness and current limiting capacity are critical, our single and double HTS layer 12 mm width Amperium stainless steel wires reduce the size, weight and often the overall cost of large-scale electrical equipment. The added benefit of wide wire widths furthers this advantage by reducing wire requirements for a given operating current which can ultimately reduce refrigeration needs as well. Uniquely suited for current lead applications, the use of stainless-steel lamination provides a high normal state resistance for current limiter applications as well as a low thermal conductivity package for low heat leak current leads.
Whether utility or commercial, alternating current (AC) or direct current (DC), we have the experience and the solutions to help system operators meet rising power demands.
Our Gallery